When we sat down to breakfast this morning, I overhead one of the managers encouraging people to have everything in order as the president was coming. Then, I heard her telling people to hurry and bring the snacks as some of the ministers were already there. I commented to Rob that I wondered if she meant
the
President, as in
Festus Mogae
, president of Botswana. On the way out, I thought I'd ask. So, I asked a lady who appeared to be in charge if the President was here. She said that, yes, he was. Well, I must have overreacted excitedly (if you can imagine that) because she said, "Would you like to meet him?" I said, "Would I!" She pointed to the lady she was talking to and said that she was the one I'd need to talk to. So I asked if I could meet him and she said that she could make it happen, asked how long I'd be around. I said that I was on my way out. She said that if I came back at lunchtime, she'd introduce me. I was so excited! So, we ran our errands in the morning (visited the Bible Society office, found the Reteng meeting place) and returned at lunchtime.
When we got back to the eating area, I looked around for the President but didn't see him or the lady who told us to come back at that time. Another lady saw us (Michael introduced her as Shelly later) and asked if she could help me. I told her about the lady who said she'd introduce us and she knew who I meant, brought me to her. The lady from earlier told me to go get Rob and Michael, that he'd meet us there in the room where he would be having lunch with the ministers. So, I got them and came back. When we got back, we were stopped by security but Shelly talked us back into the room. There, we sat and waited for just a few minutes. He actually shook our hands twice; once on his way to the bathroom, not knowing we were there to meet him, and again when we were introduced when he got back. First, he met Michael, who explained who we were an who we were with. When I was introduced to him, he commented on my name and asked what kind of name it was. I said that it was Inuit and he got a thoughtful look on his face, said he'd been reading something about the Inuit recently [more on that later]. Then, he met Rob. He welcomed us to Botswana and hoped we were enjoying the country.
At least, that's how I remember it. He may have said other things too but, frankly, I was a little overawed. I mean, this was Festus Mogae, the President of Botswana! He's on the 10 pula bill! It was so exciting! I'd been watching a lot of him on BTV news, including a Talk Back Africa episode where he took live calls.
Live calls
. Can you imagine? And I really like the way he interacts with people. He gives off an air of quiet, sensible confidence that any leader would envy. Yup, I'm a huge fan.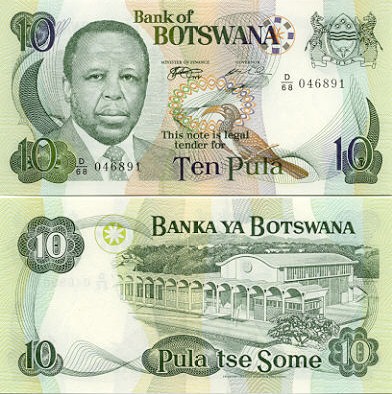 So, on he went with his day and we went on with ours. A bigger day for us, I would imagine. I realized later why he had probably been reading about the Inuit when I remembered
Botswana's recent input
at the UN conference drafting of
a declaration of indigenous peoples rights
. Like I said, definitely a fan.